Letterpress at Tiliqua Studios
I like to think of myself as a bower bird. I am attracted to certain aesthetics with which I feather my nest. Always on the look out I can never stop.
As a designer I have a similar habit. Continually exploring new avenues of creation, enjoying the process of mastering a technique then moving on to something else leaving a trail of colourful mess in my wake (which interestingly is exactly what my kid now does).
My latest adventure into a new area has been with something that I have had an interested in for many, many years: letterpress.
Now a very fashionable thing, back in my early design days it was a highly specialised area reserved for super nerdy typo-philes with only a few printing presses running commercially. It was expensive to print because it was so incredibly time consuming – as I have since found out first-hand – but the results were always impressive.
For the non-design nerds: letterpress is a form of printing that involves creating a composition using type or a engraving, rolling ink over it then pressing paper on top to create the print. It's a bit more technical but essentially that's what it is.
A few years ago my friend and co-author, Felix acquired a FAG (Fournitures pour les Arts Graphiques) proofing press along with many draws of type – including type used for printing Queensland Rail's timetables in the 1960s! After he settled into his co-op studio Tiliqua I finally got around to hassling him to let me use it.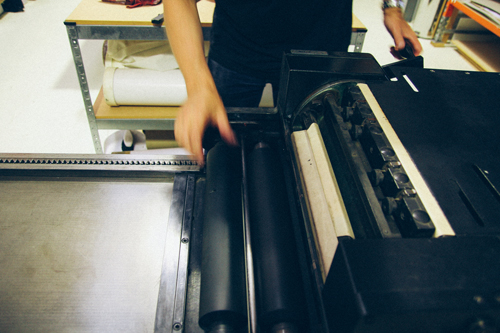 I had a couple of projects to play with but the main one was new business cards for me.
One thing you need to know about me, is that I like to make my life difficult. Learning new processes and creative outlets? I like to make them as fiddly and tricky as possible, for some unknown reason that's just my modus operandi. So why make a simple letterpress business card that would involve several hours of painstakingly hand-setting 10pt type, letter by letter, using tweezers in the first place. When I could also hand letter the back of each card with brush script, print the cards with a blind impress AND have colour edges.
Talk about tall order but I did it! And love the outcome and enjoyed the process immensely.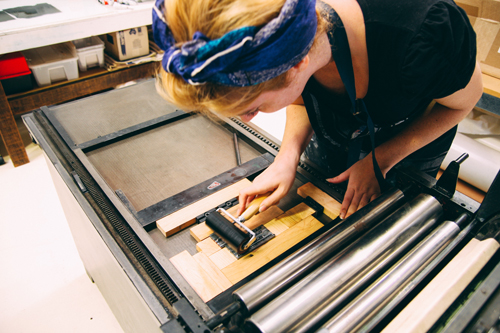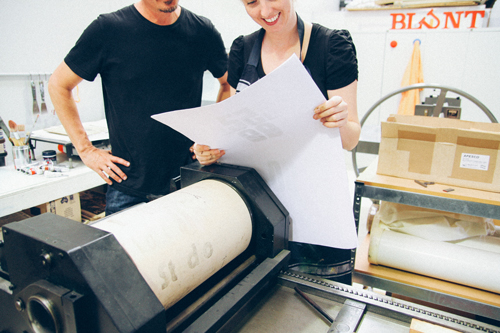 Felix and I played with the press, experimenting with card stock, ink and pagination after I hand set the type. I came up with a super technical way to accomplish blind impressing one line of type: masking tape. And it worked an absolute treat.
We trimmed the cards down with an old guillotine, then I clamped a small stack at a time and once again used a very low-tech method of painting the edges with a Posca paint pen.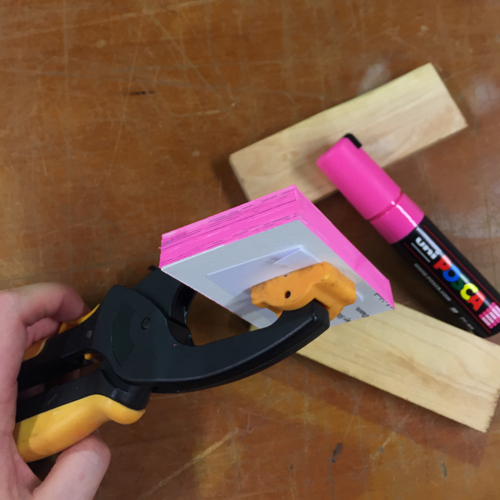 All this work was done over a number of days and the was serious effort in all aspects but the outcome was very worth it. With every roll of the press produced slightly different results with ink impress, this along with the cut up script on the back makes each card textural, graphic and unique.
Since I producing these cards I've had a number of people express interest in commissioning something of their own – so who knows? Maybe I will return to Tiliqua again and again to collaborate with Felix on many more letterpress projects to come!