Delight – Treasure hunting
We were itching to leave the house on Sunday.
I had been checking weather forecasts all week in hopes that the cold snap causing snow to fall across parts of the state would spread to the Blue Mountains and we would be able to give Little A his first snow experience.
It wasn't to be as the snow stopped short but temperatures remained quite cold so instead of feeling thwarted we made a split decision late in the morning to go anyway – why not? Let's rug up warm, go for a lovely drive and do a bit of treasure hunting in the antique shops up the mountains.
As luck would have it we stumbled on some markets half way up the mountain and enjoyed rummaging through an eclectic mix of 2nd hand (modern) toys, hand knits, vintage clothes, collectables, industrial bits and pieces and lots of great food. Little A enjoyed the fact it was held in a primary school, preferring to run around like a nutter instead of eating a freshly made waffle with spice poached fruit, SAH and I had no choice but to scarf it down ourselves.
I picked up a gorgeous little mid-century modern planter, 3 old greyhound racing muzzles (I am thinking of hanging them on the well) and 4 x 2 metre pieces of atomic print 50s fabric. Score!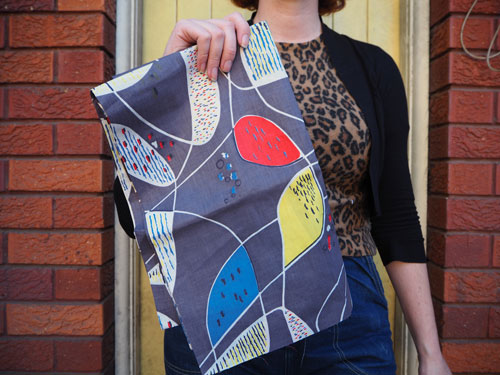 Finally coaxing Little A back in the car we bypassed most of the collectible shops, heading instead to large Blackheath antique centre with a plan to hit the rest on our way back down the mountain.
I still have memories of combing antique stores with my mum as a kid, even now the smell of linseed oil is a powerful reminder of those times. Little A often accompanies me on my treasure hunts, whether it's a string of thrift shops, markets or the odd collectible shop. The results are varied, as they usually are with a small person.
Thrift shops are the most enjoyed as there is often other children to play with or toys to (lightly) interact with –  although there was that one time last year when a small Little A emptied an entire box of a 1000 piece jigsaw on the ground, danced on it then ran off, leaving me literally left to pick up all the pieces.
Markets are a lot of fun too, it's easier to run around and there are usually some pretty good boxes to rummage through but collectible shops are very tricky and often require more restraint and they are not a lot of fun for small people so we generally keep those outings to a minimum and add points of interest for A to break the monotony of piles of junk that I am inexplicably drawn to.
And that's why after a whip around the Blackheath antique centre, we refueled with some rather dull chicken schnitzels then spent some time exploring a large park, running out the pent-up-car sillies and while that was happening I got to experiment with the video feature on my (loaned) Olympus OM-D E-M10.
This is my first ever blog video! I am quite proud of it.
Little A was beside himself, running in between trees, making 'camp fires' with collected twigs. At one point he tripped and rolled down a  hill. Laughing he picked himself up, climbed back up the (small) hill and rolled down again and again.
Calling it time when the sun started to set and the temperature dropped we stopped to watch some local kids cutting shapes on their BMX's (or whatever the kids of today do now) on our way back to the car.
By this time it was late in the day and we decided to forgo stopping at any more places bar one – The Pink Flamingo. Where  I got chatting to the proprietors about Australian Modernist Design after discovering we were both involved in this book – they wrote an article and I was interviewed for one. They have a local MAD weekend coming up  touring some fine modernist architecture in the mountains, so I signed myself up for it… and I possibly signed myself up to talk about modernist stuff at the event too. Eep!
I love treasure hunting and it was such an awesome day to have both my fella's cruise and mosey with me. And the more I play with the Olympus OM-D E-M10 the more I am enjoying it. I am slowly working out how to take better photos and get the depth of field and aperture to my liking. But it's the whistles and bells that is pushing me over – the video and tilting screen was fantastic fun but the best thing I played with this weekend was the remote control feature. Running the Olympus app through my iPhone via the camera's in-built wifi I used it as a remote control to document my treasures. My awesome selfies where created thanks to 'live view' on the iPhone screen meaning you see exactly what the camera is seeing so you can position yourself better and get rid of those double chins or stupid expressions. Very, very impressed.
In fact I foresee this feature being the answer to many harried partner's prayers. Gone will be the days when they are instructed to take OOTD's or document new hair only to be scolded for taking out of focus images or not directing the model enough: lift your chin, suck in your tummy, you have crazy eyes…
This post was part of the Olympus My Family Lens challenge, in conjunction with Kidspot Voices of Australia awards, which I am participating in for 2 months. All opinions are my own. You can follow my Olympus OM-D E-M10 adventures through my instagram, twitter or Facebook page – or simply searching #myfamilylens